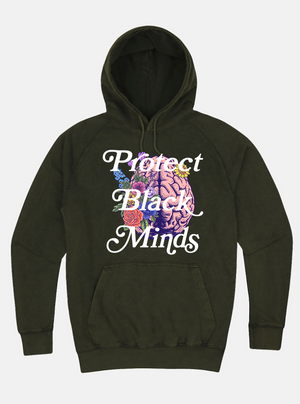 NEW- Protect Black Minds Lightweight Hoodie
🚨NEW MERCH🚨
Your Apparel should start conversations, and THIS hoodie will do JUST that!
This unisex, LIGHTWEIGHT hoodie is just in time for the spring. 
The olive hoodie is a vintage wash; each hoodie has went through an individual  special custom dye process to create a unique textured variation. Distressing is in no way to be considered defective. Please keep this in mind when matching with the cropped sweatpants. 
55% Cotton
45% Polyester
Care instruction: Machine wash on warm with like colors- Tumble dry on low. Do Not Iron 
All sizes unisex

 *Please allow 3 business days for your order to process and 2 business days for your order to ship *You will receive tracking information when your item ships *Packages are shipped in bulk on Saturday ALL SALES FINAL NO RETURNS/EXCHANGES